Any teen can benefit from a balanced breakfast. For teenage athletes, this is especially true. So, what are the best breakfasts for teenage athletes?
The best breakfast for teenage athletes is one that fuels them properly, from practices to game days. This means a morning meal that has the appropriate portions of protein, carbohydrates, and other needed nutrients (i.e. healthy fats, vitamins, minerals). Many optimal balanced meals for athletes can be taken on-the-go to make busy teen schedules easier. 
Some of the best breakfasts for teen athletes are oatmeal with nuts and fruit, protein fruit smoothies, breakfast burritos, veggie omeletes, avocado toast, and Greek yogurt and granola parfaits.
Read on for the best breakfast tips and ideas for teenage athletes. 
Is Breakfast Important For Teenage Athletes?
A balanced breakfast has many important health benefits for adolescent athletes. These include: 
Improved focus in school and practice
Higher academic scores
Improved appetite control 
Better blood sugar control 
Healthy body weight
Improved energy levels
Improved concentration
Healthier choices
Proper fuel for exercise
Learn more about how to incorporate breakfast into your teen's day: 
What Nutrients Should Be Included In A Teenage Athlete's Breakfast? 
A few specific nutrients in particular are important to an athlete's balanced breakfast- protein, high-quality carbohydrates, and other vitamins and minerals.
Protein
Protein content is one of the main reasons breakfast can be so beneficial. This is because protein helps the body sense a feeling of fullness. This is especially important at breakfast, since providing a feeling of fullness at the beginning of the day can encourage healthy eating habits throughout the rest of the day. 
Nutrition experts recommend that teens get around 30 grams of protein in the morning. This amount has been shown to: 
Improve blood sugar control 
Slow fat gain 
Encourage a healthy body weight
Promote quicker muscle recovery after exercise
The general recommendation for teen protein intake is about 0.4-0.5 gram of protein per pound of body weight. According to the Academy of Nutrition and Dietetics, "Young athletes need slightly more protein than their peers who aren't athletes…needing between 10 to 35% of their daily calories from protein."  That means a 150 pound athlete needs about 60-75 grams of protein per day. Most teens get plenty of protein by eating a regular diet. Protein powders and shakes are not typically recommended for adolescents.
A dietitian can help you or your teen target the most appropriate amount of protein for you individually as an athlete. Sources, content, and timing of eating protein may differ according to a specific sport, schedule, and lifestyle.
Some high protein food sources include: 
Beef
Poultry
Fish
Beans
Lentils
Soybeans
Milk and soy milk
Greek yogurt and yogurt
Eggs
Cheese
Cottage cheese
Nuts and nut butters
Tofu 
Oats and quinoa
See also:
Carbohydrates
High-quality carbohydrates, such as those provided by whole-grains, add nutritional value to the diet. Great examples to include at an athlete's breakfast are: 
Quinoa 
Whole-wheat couscous
Brown rice
Oatmeal
Whole-grain foods not only provide carbohydrates for the body — they also provide fiber and energizing B-vitamins. 
More high-quality carbohydrates come from fruit, beans, starchy vegetables such as sweet potatoes, and lowfat dairy products.
These may not all seem traditional for a morning meal, but think outside the box! Try sweet potato hash or a breakfast rice bowl.
See also: Should Teenagers Eat Fruit? and How Many Carbs Does a 15 Year-Old Teen Need? Ask a Dietitian!
Minerals 
Calcium and iron are two especially crucial nutrients. For teens, and particularly for athletes, these minerals promote healthy muscles, bones, and blood flow throughout the body. Eating a diet balanced in other vitamins, like vitamin C, can improve the absorption of these nutrients in the body.  
Some breakfast ideas that contain calcium include:
dairy products
green leafy vegetables
beans
tofu
almonds
broccoli
Breakfast foods that contain iron include:
meat
poultry
fish
eggs
seeds
peanuts
almonds
legumes
leafy green vegetables
dried fruits
Best On-The-Go Breakfast Ideas for Teen Athletes
Easy, on-the-go breakfasts make for better morning meals when schedules get busy, especially during the sports season! Ensure that your teen is getting the nutrients needed to fuel exercise and activity by planning grab-and-go breakfast ideas for those busy mornings. The following ideas can help you or your teen start the day off right. 
Grab-and-Go Breakfasts 
Granola bar with a piece of fruit
Hard-boiled eggs and toast
Bento Box (1 hard boiled egg + ¼ cup almonds + low-fat cottage cheese with ½ cup berries + 4 whole-grain crackers) 
Portable overnight oats (make 3 or 4 for the week at a time)
Smoothie in a blender bottle
Easy Upgraded Meals
These meals are quick and easy, plus offer easy upgrades for a boost of nutrients.
Dry Cereal + dried fruit + carton of milk to drink 
Toaster waffle (preferably whole grain) + nut butter spread on top + a drizzle of honey + fruit
Easy egg sandwich (egg + cheese + ham + 2 slices of whole-wheat bread or English muffin)
Yogurt parfait 
Breakfast Burritos (throw a batch in the freezer to pop in the microwave when needed)
Avocado Toast
Egg omelet in a mug (throw in veggies, cheese, eggs and microwave 1-2 minutes)
Prep-Ahead Ideas
Omelets
Frittatas 
Egg Muffins
Brown Bag Breakfast (e.g. banana + homemade trail mix + whole-grain cereal + favorite dried fruit) 
Banana Pancakes
Whatever your breakfast style, plan ahead and you'll be sure to find some delicious and nutritious easy breakfast ideas. All it takes is a few minutes to start your day off right and fueled.
Breakfast Tips For Vegetarian Teens & Their Parents 
For vegetarian athletes, eating a diet rich in the necessary nutrients can seem challenging due to dietary restrictions. In particular, paying attention to protein, calcium, and iron sources is especially important. The following tips for vegetarian teens can help improve a young athlete's nutrient intake and promote balanced meals. 
Get Familiar With Guidelines
Vegetarianism takes many forms. Some vegetarians avoid all meats and dairy products. Lacto-ovo vegetarians eat eggs and dairy, but no meat. Pescatarians eat small amounts of fish. Vegans eat no animal products. Flexitarians eat mostly plant-based meals, but allow for small amounts of meat occasionally.
Animal products can be an important source of essential nutrients. However, animal products and byproducts are not necessary for a full and complete diet. Defining and understanding what vegetarianism means to you can better help you set guidelines and plan appropriate, balanced meals. 
While working with teenagers, I have found that lacto-ovo vegetarians (those who avoid meat but still allow eggs and dairy) are the most successful and least likely to have nutrient deficiencies. If you are going to be more strict about a vegetarian or vegan diet, make sure you have a plan for protein, calcium, iron, and other important nutrients. Check in with a registered dietitian regularly to ensure you are not at risk for nutrient deficiencies.
See also: Can a 14 Year-Old Go Vegan? (Recommendations from this post apply to all teens)
Adapt and Adjust
Most traditional recipes can be tweaked to include nutritious vegetarian options. Look for opportunities to substitute the following items into favorite recipes: 
Whole grains
Tofu 
Beans and peas
Nuts and seeds
Egg substitutes (chia or flax eggs or aquafaba)
Extra veggies
Know Nutrient Needs
Vegetarian teen athletes are at increased risk for deficiency. It's important to ensure nutrient needs for protein, iron, and calcium are being met. Nutrient-rich, plant-based options that supply these nutrients include: 
Tofu
Kidney beans
Edamame (soy beans)
Quinoa 
Dark leafy greens
Fortified soy milk
Fortified orange juice 
Let Teens Take Charge
Many of the meals you eat may already be vegetarian without you even knowing it! Vegetarian meals can be nutritious choices for the whole family. Work with your teen athlete to design a delicious menu or shopping list that the whole family will enjoy. 
Vegetarian Breakfast Ideas
Here are a few ideas recommended by the Academy of Nutrition and Dietetics for teen vegetarians:
Vegetarian Breakfast Idea #1
1 cup cooked oatmeal
1 hard boiled egg (for lacto-ovo vegetarians)
1 cup berries
8 fluid ounces skim milk (for lacto-ovo vegetarians)
8 fluid ounces orange juice
Vegetarian Breakfast Idea #2
8 ounces Greek style yogurt (for lacto-ovo vegetarians)
¼ cup granola
1 apple
1 ounce almonds
Vegetarian Breakfast Idea #3
Smoothie made of low-fat milk blended with sliced peaches (for lacto-ovo vegetarians)
Get help from a registered dietitian nutritionist with my teen athlete meal plan:
Nutrition Game Plan for Teenage Athletes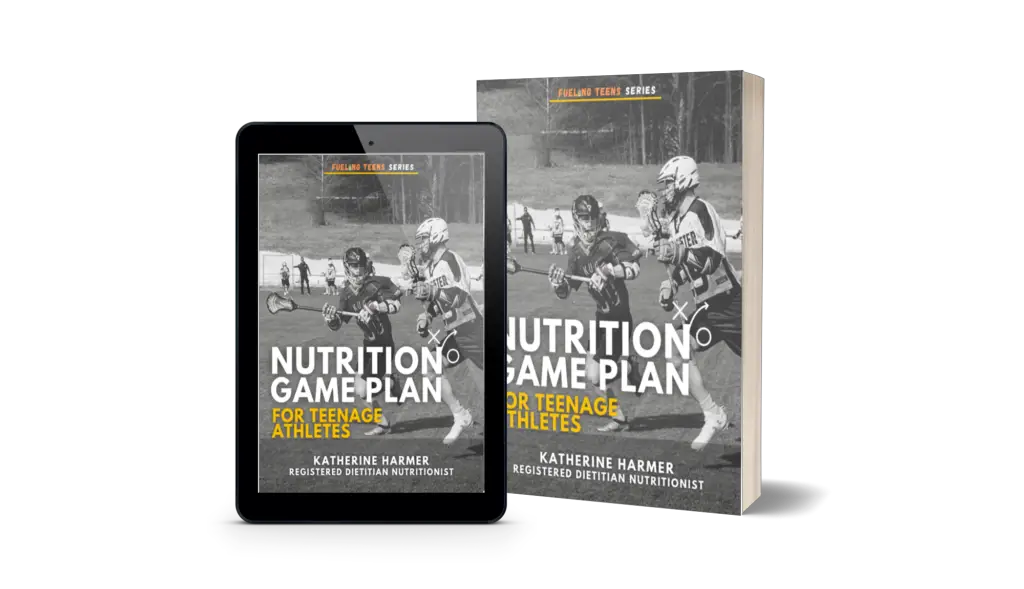 Includes month-long meal plan, supplement tips, meal and snack tips, calorie recommendations, and more! Check it out here.
I also have meal plans for football, basketball, and soccer.
Game-Day Nutrition 
Breakfast can be a source of power to start the day off strong. 
Try these delicious ideas based on recommendations made by the Academy of Nutrition and Dietetics:
1. Oatmeal with Tasty Toppings
Find an instant oatmeal with little to no added sugars, or better yet make your own from old-fashioned oats. Use low-fat milk instead of water to add nutrients you need to fuel your body. Top with raisins, berries, pumpkin seeds, dried cranberries without added sugar, or unsalted and chopped walnuts. 
2. Power Play Parfait 
Elevate your breakfast game with a layer-deep dish. Start with a layer of low-fat plain yogurt. Then, add layers of whole grain cereal, fruit, and nuts as desired. 
3. Sports Smoothie
Add a scoop of plant-based protein powder to frozen fruit (i.e. strawberries, banana) and Greek yogurt and low-fat milk. If allergic or sensitive to dairy, plant-based milk can be used. Blend until desired consistency. Grab and go for a nutritious breakfast that can be taken with you throughout the day as needed. 
4. Game-Day Grits
There's a reason southerners can't get over good grits. Sprinkle grits with low-fat cheese, spinach, and sliced tomatoes. For extra protein, add a cooked egg on the side. 
5. Score with Toaster Strudel 
For a healthy twist on toaster strudel, make toaster waffles more nutritious by adding low-fat yogurt on top. Add seasonal fruit, such as peach slices, to create winning flavor combinations (i.e. "peaches & cream"). 
6. The Pita Pocket Play
Take breakfast up a notch with a savory pita pocket! Stuff a whole-wheat pita with a hard-cooked egg (sliced into slivers). Then add spinach and low-fat shredded cheese. 
7. Protein Banana Roll-Up 
For an easy, hand-held breakfast option, spread a flour tortilla with peanut butter. Slice a whole banana and then roll it up. The peanut butter packs the protein in and the tortilla and banana add needed carbohydrates to the day. 
8. The Toast with the Most
Top a toasted bagel with low-fat cream cheese. Then, add sliced strawberries on top for a tasty, toasted bite. 
9. MVP Homemade McMuffin
Instead of fast food options, choose a quick at-home dish. Make your own "McMuffin" by adding lean ham slices and low-fat Swiss cheese to a toasted, whole-grain English muffin. 
10. Refresh & Refuel
Sometimes early practices make savory breakfasts sound better! Try hummus spread on a whole-grain toasted bagel, topped with cucumber and tomato slices. It's refreshing and refueling, all at the same time! For a fun kick add a little smoked salmon or sauerkraut for a boost to your gut health.
11. Let's Go Leftovers
Don't count out leftover pizza! Leftover slices from a veggie lover's delight can provide the perfect mix of protein and carbs for starting a teen athlete's day. 
12. Cheers for Cottage Cheese
Low-fat cottage cheese can be the perfect, protein-centric dish for breakfast. Top with fruit for a creamy, delicious dish! 
13. Underdog Rice Remix
You'd never guess it, but this recipe is a winner. Mix leftover rice with low-fat yogurt, dried fruit, nuts and cinnamon. It's the perfect mix of sweet with just enough grain for substance and energizing fuel. 
14. Baller Black Bean Burrito
Breakfast burritos for the win! Opt for ingredients like corn tortillas, mashed avocado, black beans, salsa, and low-fat Cheddar cheese. These ingredients add the right mix of protein, healthy fats, and carbohydrates to keep young athletes fueled for game-day events. 
The Worst Breakfast Ideas for Active Teens
Many breakfasts foods are full of sugar and refined grains and are not a great idea for fueling your day. These foods will spike your blood sugar, causing a "crash" later in the day and making you feel fatigued, tired, irritable, and craving more high-sugar foods.
Try to limit these foods for breakfast, especially on the morning of a big practice or competition:
Sugary breakfast cereal
Granola bars with high amounts of sugar
Imitation maple syrup on pancakes, waffles, french toast
Donuts and other pastries
Cakes and muffins
Cinnamon rolls
Sugary beverages
Toaster pastries
Instant oatmeal packets with added sugar
These foods also are missing out on protein and healthy fats and fiber which will keep you feeling full, fueled, and satisfied throughout your day.
The Bottom Line on the Best Breakfasts for Teen Athletes
A fueling morning meal for teen athletes should ideally have protein, carbohydrates, and include nutrient-rich foods. Dietitians, especially sports dietitians, can help individual athletes design well-balanced meals. Eating well in the morning can boost performance for a teenage athlete — from practice to game day! 
Related Questions
What Should a Teenager Eat for Breakfast? Teens should fuel up on a breakfast full of healthy carbohydrates, protein, and healthy fat. Some of the best breakfast ideas are nut butter on toast with sliced fruit, breakfast burritos, veggie omelettes, Greek yogurt parfaits, oatmeal with fruit and nuts, a protein fruit smoothie, or a veggie hash bowl.
What Should a 14 Year Old Athlete Eat for Breakfast? A 14 year old athlete should eat foods with healthy carbohydrates and protein for breakfast to stayed fueled and full throughout the day. Eat avocado toast, overnight oatmeal with fruit and seeds, a protein green smoothie, veggie omelet, flatbread breakfast sandwiches, Greek yogurt with granola and fruit, or hard boiled eggs with toast and fruit.
What Breakfast is Good for Teens? Teenagers will feel best if fueled with the appropriate nutrients for their day. The best breakfasts include oatmeal, eggs, nut butter toast, fruit smoothies, whole grain cereal, breakfast burritos, and more. Choose high protein and healthy carbohydrates for a nutrient-rich breakfast for a growing teenager. Breakfasts can be easy and fast and nutritious, lack of time is not a good reason to skip breakfast.
What Should Teenagers Runner Eat? In addition to healthy carbohydrates and protein, teenage runners should be sure to get healthy fat as part of their breakfast. Some great examples are avocados (avocado toast or a breakfast bowl), nuts and seeds (in oatmeal, muesli, or smoothies), or even fatty fish (try smoked salmon on a bagel).
See Also
References
Academy of Nutrition and Dietetics staff registered dietitian nutritionists. Smart Tips to Power Up with Breakfast. Eatrightpro.org. Published 2021.
Buschmann J. Healthy Meals and Snacks for the Busy Athlete. Nationwidechildrens.org. Published 15, 2015. 
Castle J. Healthy Breakfast for Teens: 8 Protein Rich Ideas. Thenourishedchild.com. Published July 22, 2020. 
Ellis E. Nutrition for Growing Bodies. Eatright.org. Published May 28, 2020. 
Ellis E. 5 Reasons Your Teen Needs Breakfast. Eatright.org. Published October 7, 2020. 
Ellis E. 6 Tips for Better Breakfasts. Eatright.org. Published September 2, 2020. 
Hermann M. Menu Ideas for Vegetarian Teens. Eatright.org. Published October 9, 2019. 
Irlbeck W. Motor Revving Breakfast Ideas for Fueling High School Athletes On-the-Go! Nutritionwithwendi.com. Published July 23, 2020. 
Klemm S. Tips to Keep Your Vegetarian Child Healthy. Eatright.org. Published December 14, 2020. 
Palace J. A Week's Worth Of Healthy Breakfast Ideas For Athletes. Spoonuniversity.com. Accessed June 2021. 
Fueling Teens is a participant in the Amazon Services LLC Associates Program, an affiliate advertising program designed to provide a means for sites to earn advertising fees by advertising and linking to Amazon.com. We also participate in other affiliate programs which compensate us for referring traffic.