Breakfast time can be busy. So busy, in fact, that the morning meal might be skipped. With school schedules and other obligations competing for priority, what should teenagers eat for breakfast?
Simple, portable, and nutrient-rich breakfasts are ideal for fueling teenagers. A healthy breakfast is shown to influence dietary decisions for the rest of the day. Starting the morning out right means adolescents are primed for success and long-term health.
A quick formula for teens to make the best breakfast is to combine protein plus carbohydrate. Some of the best breakfasts for teenagers are oatmeal or overnight oats, egg omelets with whole wheat toast, homemade protein smoothie, Greek yogurt parfait, cottage cheese and fruit, or breakfast burritos. These can be made into fast grab-and-go meals for the busy teen.
Read on for easy breakfast ideas, a list of the worst breakfast foods, and learn why teenagers should not skip breakfast.
What Should Healthy Teens Eat for Breakfast?
Breakfast really is the most important meal of the day. It starts your day right as long as you choose nutrient-rich foods and hydrating beverages. Teenagers especially need a fueling breakfast before they set out on a busy day full of school, sports, friends, work, and other extracurricular activities.
Benefits for Teens of Eating Breakfast
Breakfast nourishes teenage bodies at the beginning of the day, so it's no surprise that there are benefits for breakfast-eaters. For starters, adolescents who eat breakfast perform better in school. 
Other Benefits of Eating Breakfast Include: 
Improved brain function, memory, and recall
Improved academic performance (i.e. math, reading, and standardized tests)
Increased self-esteem
Improved food choices throughout the day
Improved mood and less feelings of fatigue
Positive impacts on long-term health, overall health, and well-being
Maintenance of a healthy weight
Making breakfast a priority may require some small sacrifices, but benefits are more than short-term. Breakfast adds an element of balance to the day and has the potential to affect overall health in positive ways. 
Risks of Skipping Breakfast
Many teenagers skip breakfast with the hopes of saving time or losing weight. Unfortunately, the opposite may occur in both cases.
Skipping Breakfast Can Lead to: 
Overeating later in the day
Feelings of fatigue and irritability
Difficulty focusing
Behavioral problems
Inflammation
Metabolic changes
Appetite changes
Studies show that breakfast-eaters are actually less likely to be tardy to school. Treating breakfast as the important meal that it is seems to make the morning run more smoothly.
If you think you don't have enough time for breakfast, think again. A healthy breakfast can be as easy as 2 minutes of your time or a little preparation at the beginning of the week or night before.
See also: How Do I Get My Teen To Eat Breakfast? Tips from a Dietitian
List of the Worst Breakfast Foods for Teenagers
Breakfast food companies tend to prey on convenience, so it's important to prioritize eating healthy — even early in the morning. 
Most popular breakfast foods are heavy in sugar and refined grains. These are some of the worst foods you could eat for breakfast, especially when you have an important day of school, work, or sports. These foods don't provide a good source of energy; they cause your blood sugar levels to spike early in the day and then crash later on, leaving you feeling irritable, fatigued, and craving unhealthy foods.
Avoid eating the following foods for breakfast. They are sources of counterfeit fuel that will leave you feeling sleepy and lagging by mid-day: 
Refined grains
Pastries or baked goods with added sugars and fats (i.e. muffins, doughnuts, cinnamon rolls) 
Sugary cold cereals with little to no nutrients or fiber  
Premade smoothie mix packets
Shake and bake waffle or pancake batter
Fruit juice (other than 100% fruit juice)
Toaster pastries or strudels 
Scones, especially when topped with added sugars (i.e. jam or creams)
Sweetened yogurts (often the flavored or mix-in-fruit varieties)
Granola bars with added sugars, corn syrups, etc. 
Processed gluten-free breakfast foods
Sausage biscuits
Flavored non-dairy creamers
Refined grain bagels, loaded with flavored cream cheese or butters
Some foods, like breakfast cereals, are fortified with nutrients that were removed during processing. The best option is to eat whole foods that contain these nutrients naturally whenever you can. 
Breakfast foods with added sugar, high levels of fats, and little to no nutrient content can cause inflammation and weight gain. They also lead to "crashes" where energy levels tank and metabolism is affected. 
Remember, it's better to fuel your body with something than with nothing at all. If the above listed foods are truly your only option when eating, that is okay! However, keep in mind that what you make a habit will ultimately affect your health. 
How to Plan the Best Breakfasts for Teens
Many unhealthy breakfast foods can be improved by simply swapping part of your meal for a healthier option. Teens can easily make these switches while learning to prepare breakfasts for themselves. Simple swaps, such as choosing whole grain bread instead of refined white bread, can make a big difference — both in the short-term and the long-term. 
A quick formula for making morning meals that provide power is to combine protein plus carbohydrate. For example, a simple fruit and low-fat yogurt parfait is ideal for staying awake at school. 
Energizing Carbohydrates
Carbohydrates function as fuel for the body, especially in the morning when energy is ramping up for the day. Eating a balanced source of carbohydrates is important to keeping energy steady and avoiding a "crash". 
Instead of loading up on refined sugar and grains, nutritious options for energizing carbohydrates include: 
Whole-grain bread, toast, or muffin
Whole-grain cereal
Whole-grain waffle or pancake
Oatmeal
Fruit, especially whole fruits
Combining carbohydrates with healthy fats and proteins can help to keep teenagers feeling full throughout the morning and early afternoon. Especially if refined grains are the only available option, try combining carbohydrates with a source of protein, healthy fat, or fiber in order to make the energy levels last longer. 
Powerful Protein Sources
Protein is a nutrient that is largely responsible for providing a feeling of fullness. It might be helpful for teens to think about it this way — cucumbers are mostly made up of water while chicken is full of protein. You'd have to eat a lot of cucumbers to feel as full as one or two servings of chicken makes you feel. 
With that in mind, think about how important protein is at the beginning of the day. Feeling hungry can distract from the day's activities, so staying full is crucial to success in school and beyond. Especially for athletes, fueling for extracurricular activities requires focus, preparation, and special attention to protein intake. 
The Best Protein Breakfasts:
Eggs- omelets, hard-boiled eggs
Peanut butter toast
Nut butter smoothie
Oatmeal -add nuts and seeds for a boost
Homemade protein shake -made with Greek yogurt, milk, nut butter, oats, and seeds
Greek yogurt
Cottage cheese
Lean meats
Beans and legumes
See also: How Many Eggs Should A Teenager Eat Per Day?
Swap heavy and harder to digest breakfast meats for these sources of protein: 
Milk or yogurt
Nut butter
Nuts and seeds
Eggs
Edamame
Soymilk 
Plant-based protein powder smoothies
A dietitian can help teenagers plan for balanced protein throughout the day. Remember that while protein is an important nutrient for feeling full, it isn't the only nutrient. Eating enough healthy fats, carbohydrates, and getting enough nutrients overall is just as important for teen health and wellness. 
Delicious and Nutritious Morning Meal Ideas for Teens
Breakfast can be both nutritious and delicious. Simple swaps and easy meals require little preparation but can make a big difference for your morning. 
Skip the store-bought, packaged breakfast for something homemade. Remember, the healthiest breakfasts for teens combine healthy carbohydrates and protein, plus some healthy fats and fiber. Here are some great ideas.
Best Breakfasts for Teens:
Breakfast tacos/burritos (bonus points if the tortillas are made with whole grains or vegetables) 
Whole-grain french toast with fresh fruit (i.e. sliced bananas)
Whole-grain english muffin sandwich
Whole-grain cereal with nut milk, topped with fresh fruit
Yogurt parfait, topped with granola or whole grain cereal
Veggie-packed omelet
Breakfast casserole
Low-fat cottage cheese and fresh fruit (i.e. cantaloupe or peaches)
Oatmeal made with nut butter, seeds, and topped with fruit
Remember, when you're in a pinch it's important to grab foods that fulfill fiber, nutrient, and protein needs at the very least. This helps teens feel full, even on-the-go.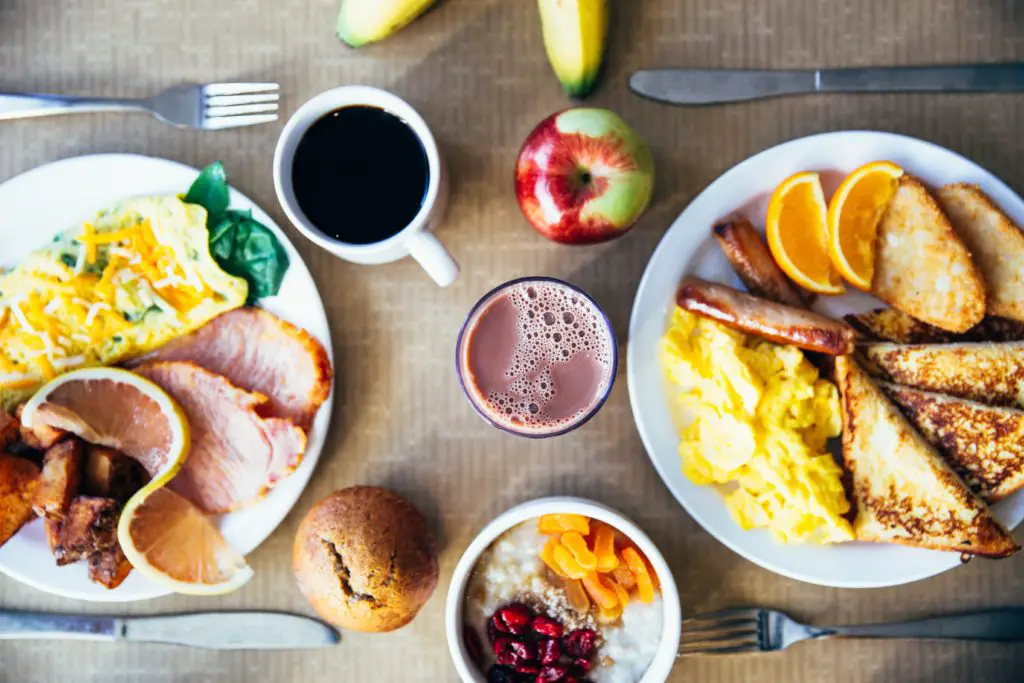 Easy and Fast On-the-Go Breakfasts for Teens
While these quick and easy breakfast ideas aren't conventional, they are nutritious and delicious when a fast meal is needed on-the-go. If you're running out the door, try grabbing one of the following foods or combinations to keep your morning running smoothly: 
Homemade oatmeal bars
Whole-grain pretzels and hummus
Plain popcorn and cheese cubes
Overnight oats
Egg omelet in a mug
Frozen homemade breakfast burrito
Hard-boiled eggs and bell pepper strips
Ants on a log (celery stuffed with peanut butter and topped with raisins)
Grapes and homemade trail mix
String cheese and pistachios
Greek yogurt and granola 
Almonds and low-fat milk
Turkey bacon and whole grain toast
No added sugar instant oatmeal with dried cranberries and almonds
Peanut butter and banana sandwich
Cream cheese on whole-grain bread
Fruit and veggie smoothie 
Quesadilla and dried fruit
Cheese and crackers
Leftover rice or pasta
Whole grain toaster waffle with nut butter and apple slices
Whole-grain toasted bagel with hummus and cucumbers or tomatoes
Whole fruit (i.e. banana, orange, or apple) and a handful of nuts
Unsweetened applesauce and sunflower seeds
6 Ways to Prioritize Breakfast for Teenagers
Here are six tried and true tips for breakfast success: 
Prepare – Set yourself up for success the night before by laying out all the items you need to have a healthy morning meal. Make sure your schoolbag, lunch, and everything else you need is also ready the night before so you aren't as rushed in the morning.
Adjust – Waking up just 5 or 10 minutes earlier each day can have a huge impact. Give yourself enough time to grab a quick breakfast. 
Pack – There are plenty of nutritious options to put in your backpack or bag the night before. Eat on the bus or when you arrive at school — a breakfast on-the-go is better than no breakfast at all! 
Balance – If you are eating or snacking too much at night, your morning appetite can be affected. Making time for breakfast allows your body balanced nourishment all day long. If you don't feel hungry right when you wake up, try getting dressed and attempting other aspects of your routine before eating breakfast. 
Habit – Making breakfast a habit, especially when the whole family gets involved, makes breakfast that much easier to accomplish. Eating nutrient-rich meals in the morning as a family can help make healthy habits a permanent part of your routine. 
Ask – Alternate options, such as school lunch programs, may be available. These programs can help busy parents and teens keep breakfast a priority. 
Some of my favorite and fast breakfasts can be prepared in batches in advance such as breakfast burritos, egg omelet cups, overnight oats, fruit parfaits, whole-wheat muffins, or baked oatmeal.
When in doubt, reach out to a dietitian. They are qualified to help you set goals and take steps towards making a healthy, nutritious breakfast part of your day. Breakfast is crucial for teens to feel fueled throughout the day, and even has the power to influence afternoon and evening eating.  
Related Questions
How Many Eggs Should a Teenager Eat for Breakfast? A teenager can eat 1-3 eggs per day on a healthy, balanced diet. Eggs are nutrient-packed, but it's possible to get too much of a good thing. Eggs are a healthy and fast breakfast for teenagers and provide great nutrients to start out your day including high quality protein, healthy fats, and 13 essential vitamins and minerals, all at only 70 calories per egg. Enjoy eggs in moderation- they are a low-calorie, low-carb, and low-cost breakfast meal.
What Should a 13 Year-Old Eat for Breakfast? The best breakfasts for a 13 year-old combine healthy carbohydrates and protein. Nutrient-rich breakfast ideas for a 13 year-old include Greek yogurt parfaits, whole wheat cereal and fruit, egg omelets and toast, homemade protein-packed smoothie, oatmeal or overnight oats, breakfast burritos, egg sandwiches, peanut butter and banana sandwich, or cottage cheese and fruit.
Do Eggs Make You Taller? You should regularly consume eggs for breakfast as part of a balanced nutrient-rich diet to help you grow taller as a teenager. Eggs contain tiny amounts of many important nutrients during the crucial teenage years of growth and development. Eggs are healthy when prepared in the right way and eaten in moderation.
How Many Eggs Can a Teenager Eat Per Week? As long as you don't have related health problems, teenagers can eat 1-3 eggs per day which equals eating 7-21 eggs per week. Eggs are a healthy, high-quality food and a great choice for quick breakfasts for teenagers. Teenagers should plan eggs into their diet at least 2-3 times per week for essential vitamins and minerals, high-quality protein, and healthy fats. Plus, eggs are low calories and low cost.
What are the Best Breakfast Cereals for Teenagers? The best breakfast cereals for teenagers are made with whole-grains and contain a small amount of sugar (less than 5 grams), plus some protein. Some of the healthiest cold cereals for teenagers include Kix, Cheerios, Barbara's Puffins, homemade granola or muesli, Bob's Red Mill Granola, or Kashi.
See Also
References
Academy of Nutrition and Dietetics. Menu Ideas for Vegetarian Teens. Eatright.org. Published October 9, 2019. 
Academy of Nutrition and Dietetics. Power Up with Breakfast. Eatright.org. Published December 12, 2019.  
Academy of Nutrition and Dietetics. 5 Reasons Your Teen Needs Breakfast. Eatright.org. Published October 7, 2020. 
Academy of Nutrition and Dietetics. 6 Tips for Better Breakfasts. Eatright.org. Published September 2, 2020. 
Academy of Nutrition and Dietetics. 7 Kitchen Staples for Teen-Friendly Meals. Eatright.org. Published March 9, 2018. 
Cleveland Clinic. The 5 Worst Breakfast Foods for You. Health.clevelandclinic.org. Published July 13, 2020. 
Fueling Teens is a participant in the Amazon Services LLC Associates Program, an affiliate advertising program designed to provide a means for sites to earn advertising fees by advertising and linking to Amazon.com. We also participate in other affiliate programs which compensate us for referring traffic.