It is a commonly known fact that athletes expend more energy than the average person. Intense physical activity means that more energy and protein are needed for proper recovery. For teenage athletes, this is especially true to consider the macronutrient (protein, carbohydrate, and fat) needs of a growing and developing body. With all those factors, which protein bars and energy bars are best for teenage athletes?
The best protein and energy bars for teenage athletes are Larabars, Perfect Bars, Rise bars and more that contain low amounts of saturated fat, added sugar, and no artificial sweeteners.
When choosing a protein bar, look for nutrient-rich options that help add balance to an overall eating pattern and promote proper training and recovery. While protein is critical to creating muscle mass, the need for protein can easily be overestimated. As the Academy of Nutrition and Dietetics says, "more is not necessarily better" when it comes to protein. In other words, more protein does not mean the body is more likely to be toned. 
Read on for six of my favorite picks that balance protein and energy with nutrient-dense calories to keep teen athletes on the move.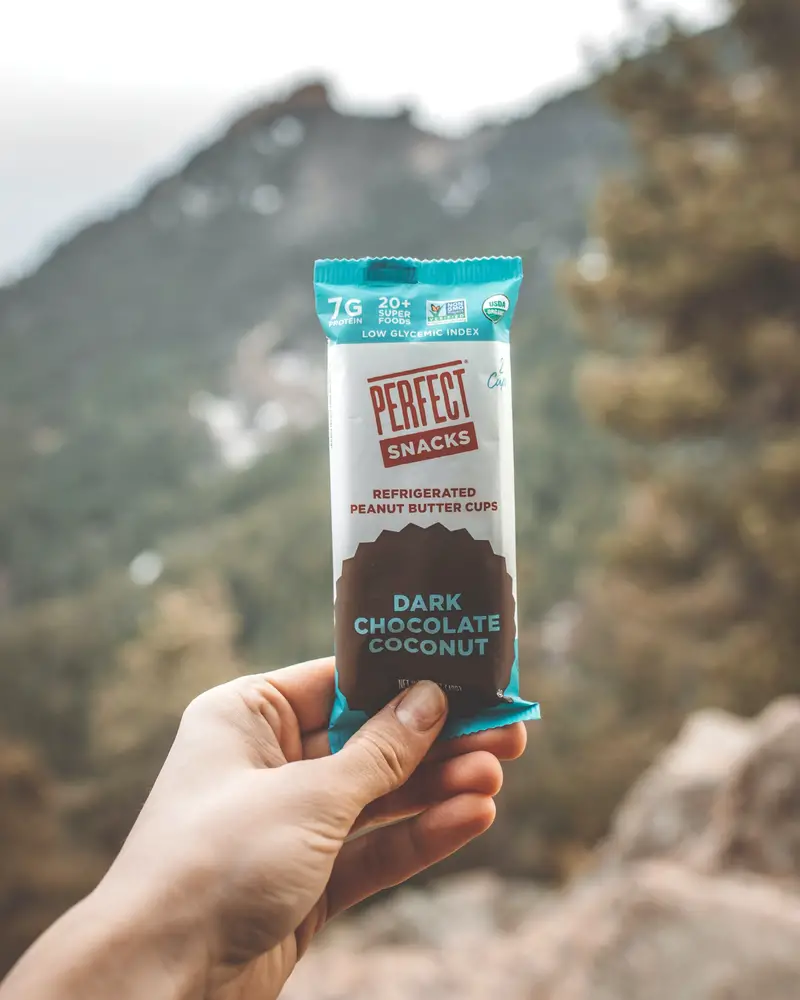 Best Protein and Energy Bars for Teenagers
I like Larabars for their simple, healthy ingredients (typically dates, cashews or other nuts, and maybe some chocolate), and great taste. It's a great energy option for kids and adults alike. They don't have a lot of protein (about 6 grams per bar), but you can also check out Larabar protein bars made with peas and nuts for 11 grams protein per bar.
The Backstory of the Bar
Lӓrabar was created in May 2000, but has been gaining popularity in recent years. Founded by a hiking enthusiast, Lara believes that natural foods "should be fun and enjoyable as well as good for you." From her story emerged four initial flavors that are still fan favorites: Apple Pie, Cashew Cookie, Chocolate Coconut Chew, and Cherry Pie 
Star Ingredients
Packed with up to 11 grams of protein, Lӓrabars get their flavor from plant-based ingredients. They keep consumers full with only 9 ingredients or less.  They offer two options for energy, the Lӓrabar Original and Lӓrabar Protein (click to view on Amazon).
Great for These Type of Teen Athletes
Lӓrabars are an excellent option for athletes wanting to curb the cravings, Lӓrabars also feature the following perks when it comes to their protein bars. Each flavor is:  
Gluten-free
Vegan
Dairy-free
non-GMO 
Made from plant-based protein
Where to Buy
Every major grocery store carries LARABARs. Visit their list of stores to find where the bars are available, or visit their shop online. You can also buy them online from Amazon in bulk for a good price. Expect to pay around $1 per bar, but in bulk you can get them a lot cheaper.
I've pretty much tried every flavor, and there are plenty to choose from. My favorite flavor is peanut butter chocolate chip. I always have some bars on hand as a healthy snack for my kids when we're on-the-go.
2. No Cow
The Backstory of the Bar
Daniel Katz, the creator of No Cow, shares on the company's Our Story page, "I became passionate about my health and fitness at a very young age". During his teenage years, he lived on whey protein bars but found that they gave him stomach aches and other symptoms. So, he created his own solution.
Star Ingredients 
Like the packaging says, No Cow Bars are full of fueling ingredients while remaining dairy-free and low in sugar. Claiming big taste and high protein, these bars get their strength from plant ingredients and natural sweeteners. 
They also offer energy bars, which contain caffeine from coffee bean flour. With no added sugar, these bars are high fiber, high protein, and contain enough calories from nutrient-rich ingredients to keep your teen going. 
Great for These Types of Teen Athletes
These bars are great options for lactose and dairy-free teens who need a high-protein snack to get them through the day. Also a great choice for vegan athletes, those with gluten sensitivities, and as a post-workout option for refueling. 
Where and What to Buy 
If you aren't sure where to start, I recommend ordering the sampler pack. It includes one bar each of their 12 best-selling flavors. Each contains approximately 20-22 grams of plant-based protein, 4 grams carbohydrates, and only 1 gram of sugar. 
The highest protein options in this pack? Cookies 'N Cream, Blueberry Cobbler, Sticky Cinnamon Roll, and Lemon Meringue Pie. It doesn't hurt to have your snacks sound more like desserts. You're bound to find a flavor that you like.
You can get these for about $2 each at stores like Walmart, or for cheaper in bulk.
Find a local vendor using No Cow's Store Locator. Right now the company has a coupon available to use at any store as well as free shipping to celebrate the New Year. 
The Backstory of the Bar
RBar claims one purpose, to help you "Feed Your Pursuit". The teenage years are a time where many chase their dreams and simultaneously learn to value simplicity. The same was true for RBar founder and serious cyclist Brian. 
Star Ingredients
Based on its roots, RBar energy bars get their powers from superfoods, nuts, and fruits. The best part about RBars is that they offer energy and protein packed in a tiny bar, with only 7 ingredients or less. 
In addition they are made with plant-based ingredients and almond protein, and they don't contain any of the following ingredients: 
Great for These Type of Teen Athletes
As mentioned above, these bars are a great option for athletes looking to avoid common allergens. Like No Cow, they contain no whey and instead get their refueling properties from plant ingredients and almond protein. Those allergic to nuts will want to seek alternate options for refueling. 
These bars are great for elite athletes as well as anyone seeking healthier snack options for healthy weight loss. RBar suggests these particular athletes might enjoy being fueled by their energy bars: 
Endurance cyclists
Marathon runners
Hikers
Climbers
Runners 
Where and What to Buy
If you are buying directly from RBar, I would highly recommend getting the Energy Variety Box or Protein Variety Box. These packs will allow you to sample different flavors and get a taste for what fuels and fulfills you when it comes to working out. You can also buy a Variety Starter Box from Amazon. RBars cost about $2.50 each. Favorite flavors are Lemon Poppyseed, Double Chocolate, Chocolate Espresso, Blueberry Breakfast, Cranberry Cashew, Cinnamon Roll, Prickly Pear Pecan, Pink Lemonade, and Peanut Butter and Jelly.
The Backstory of the Bar
These refrigerated protein snacks started with a wild ride. From a family of 13 kids was born a mission to nourish with delicious, fresh, and whole food nutrition. They brand now claims to be a leader in fresh snacking, with a key part of their quality due to refrigeration of their products rather than artificial preservatives.
Star Ingredients
Perfect Foods contain nuts, so they aren't suitable for those with nut allergies. However, they get their fresh ingredients and energy from whole food based protein and more than 20 superfood ingredients. 
Bound and sweetened with honey, these bars have all the texture and taste of a delicious snack. A word of warning though — these bars do contain saturated fat and added sugars (from oils and honey).
Great for These Type of Teen Athletes
Perfect Snacks are great for athletes on the go. Since they do contain added sugars and saturated fats, I generally recommend them to athletes that are out-and-about and need a convenient option to refuel. 
Save them for outdoor adventures or keep them in mind for when you are on the road. They might not be the best regular option, but they are great for providing on-the-go energy. 
Those looking for the following features might find Perfect Bars to be a perfect fit. 
A convenient dose of vitamins and minerals
Organic superfood blend
Non-GMO verified
Gluten-free 
Kosher
Where and What to Buy
Use their Store Locator or visit their online shop. Looking for the bar with the highest protein content? Try the Peanut Butter bar. Personally, my favorite flavor is the dark chocolate almond.
You'll find these at most grocery stores in the refrigerated section (likely next to the yogurt), for about $2 each.
The Backstory of the Bar
Rise Bars claim to be the simplest protein bars on the market. They know what many teen athletes are starting to learn in their adolescence — "There is a direct correlation between what we put into our bodies and what comes out in terms of how we think, behave and perform." 
Star Ingredients
Some of their bars contain nuts and whey isolate, which may cut some consumers out of their audience. However, Rise Bars believes that these ingredients are what make them special. Rise Bars have naturally-occurring protein and prefer to avoid peanuts. 
One of the especially great ingredients in these bars is honey. It is used as a natural sweetener and preservative. The company is committed to never using artificial sweeteners or sugar alcohols especially since these ingredients are associated with gastrointestinal distress. 
Great for These Type of Teen Athletes
Whey isolate is largely considered the golden standard of protein sources, although research is more readily pointing to plant-proteins as supplemental solutions are found. For quick absorption and excellent bioavailability, whey isolate is used in some of the Rise Bars. 
Other options from the company include a vegan-friendly pea isolate, which is one of the most complete plant-based proteins available. The company considers this just as effective for muscle recovery as dairy-based protein.
Where and What to Buy
For first timers, I suggest the 4 Pack of Plant-Based Protein Bars. This bundle contains two mouth-watering flavors with 15 g of protein and 5 ingredients or less in each bar. Use their Store Locator to find them, or keep an eye out at Whole Foods or Costco. You can also shop online at Amazon for a 12 pack.
These run about $2.25 each bar.
The BackStory of the Bar
Along with Perfect Snacks, G2G Bar was one of the early pioneers in refrigerated protein snacks. Their goal was to "pack every bar with clean, simple, fresh ingredients." Packaged without preservatives, these bars have been growing in popularity over the last decade and are now sold at more than 2,500 locations. 
Star Ingredients
The thing about G2G Bars that sets them apart is that they are made without preservatives. They are also gluten-free and high in fiber. Containing 18 grams of protein and coming in 8 flavors, they are one of the more affordable options on the market and are now being offered in stores like Costco. 
Great for These Type of Teen Athletes
Most of these bars do contain nuts, milk, and coconut, so they won't be the best pick for those with tree nuts or other allergens. On the upside, the nuts up the protein levels and make for some delicious combinations, such as Peanut Butter and Jelly. 
Like some of the other bars listed, these bars also get their protein from whey isolate. They also have no refined sugar but sneak in some organic brown rice syrup and coconut sugar. These are just fancy words for different types of sugar that are more naturally occurring. 
Where and What to Buy
Similar to other bar options, these bars can be found in the brand's online shop or through the Store Locator on G2G's website. You can also shop online for a starter pack. These are around $3 each.
The Bottom Line
Protein and energy bars can be helpful for teens on the go and teen athletes. Pay attention to the ingredients and nutrition facts to fuel yourself right. What's your favorite bar and favorite flavor? My all-time favorite are Larabars!
Related Questions
What is the Healthiest Protein Bar? Coming from a dietitian, the healthiest protein bars contain low amounts of added sugar, saturated fat, and no artificial sweeteners. In my opinion, Larabars are the healthiest protein bars, but some of the flavors contain lower amounts of protein than other traditional protein bars.
Which Protein Bars Have the Least Amount of Sugar? There are many protein bars that are sugar-free and sweetened with artificial sweeteners. These can cause gut discomfort and so I recommend naturally sweetened protein bars such as Larabars or Rise bars.
Do Energy Bars Make You Gain Weight? If you eat energy bars that are high in calories right after a workout, you could gain weight. Many energy bars are high in calories, sugar, and saturated fat and aren't good for you. Only choose an energy bar when you are hungry and pick one that is around 200 calories or less.
Can a 13 Year Old Eat Protein Bars? Protein bars aren't the best choice for a 13 year old. High-quality protein can be easily obtained from foods. I recommend protein bars occasionally for convenience. If you are 13 and need some quick protein on the go after sports, look for bars made with protein from nuts and peas.
How Do You Pick a Healthy Protein Bar? To pick a healthy protein bar, choose a brand that does not contain artificial sweeteners (even though the sugar-free brands might be tempting), and contains less than 3 grams of saturated fat, without sugar or high fructose corn syrup as one of the main ingredients. I personally like Larabars for their simple, healthy ingredients and great taste.
See Also
References
Caspero A. Protein and the Athlete — How Much Do You Need?. 
Fueling Teens is a participant in the Amazon Services LLC Associates Program, an affiliate advertising program designed to provide a means for sites to earn advertising fees by advertising and linking to Amazon.com. We also participate in other affiliate programs which compensate us for referring traffic.