Regular price: $24.99
Flash Sale Price: $13.99
The teenage years are absolutely critical for the development of habits and an overall healthy lifestyle that can stick with you through the rest of your life. These years are full of social connections, sports, fad diets, and really just trying to figure out who you are going to be.
It's imperative during these formative years that teens form good habits around nutrition and exercise that will help them avoid a lifetime of dieting and insecurity around their weight and fitness. Everybody (and every body) is a little different and we know that teens face plenty of pressure to both conform and to act out.
I wrote this book as a guide for teenagers to try and help them get to a healthy weight the right way- not with dumb diets or harmful behaviors- but with daily mindful habits that scale well through the rest of their lives.
So What's in the Book?
75+ pages with insightful infographics for quick tips
11 week plan with actionable steps for teens to develop healthy habits
5 week

meal plan

to help you eat well and eat right
Sections directed at both teens, as well as their parents
Healthy snack list recommendations
Tips for gaining or losing weight the healthy way
Calculations for daily calorie needs
…And More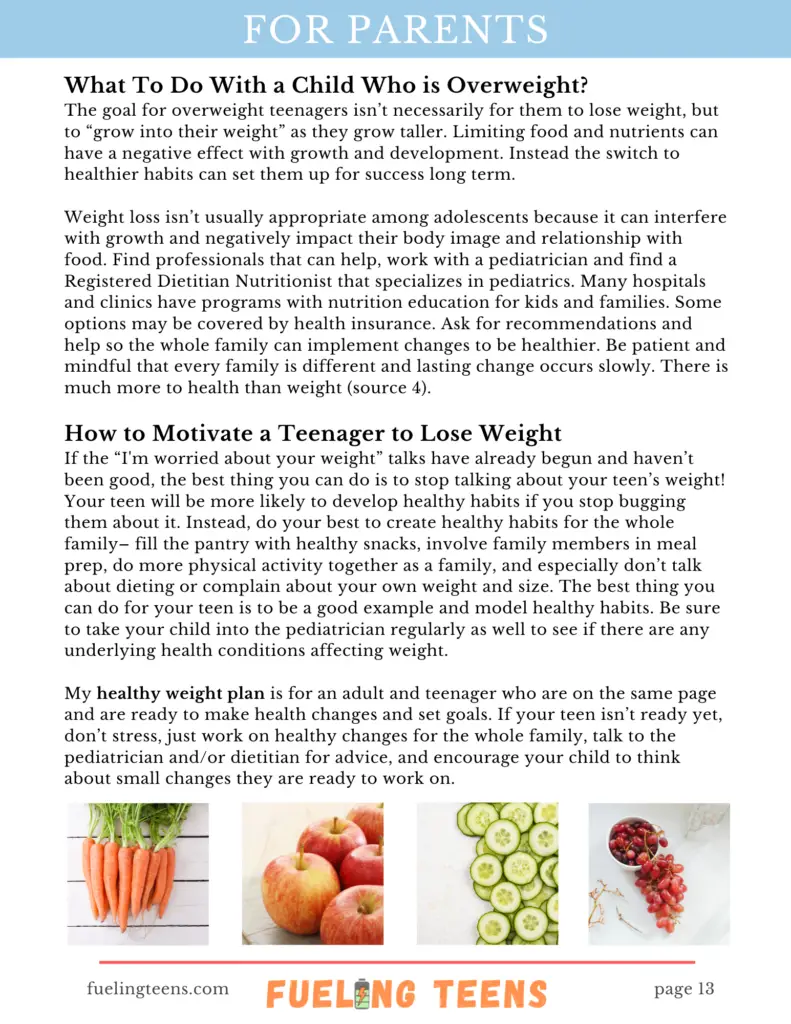 Who is the Book For?
Teenagers
Parents of Teenagers
Leaders and Mentors of Teenagers
About the Author- Katherine Harmer, RDN
I am a Registered Dietitian Nutritionist. That means I went through 4 years of college with an additional year of rotations, followed by a certification exam. I complete regular continuing education to keep up-to-date on research and nutrition trends. Dietitians are the experts in food and nutrition, accredited by the Academy of Nutrition and Dietetics. As a dietitian, I counsel individuals on nutrition issues to promote health and manage disease. I can help you build a healthy lifestyle with an easy-to-follow plan to improve your health that is realistic for your lifestyle and tailored to your individual needs.
In this book you won't find any nutrition advice that is based on fad diets, popular trends that don't work, or scams to get your money. I share tips that are research-based, healthy, and realistic to meet your lifestyle and establish methods that will lead you through the rest of your life.
Click below to buy through Paypal. You can download the file immediately after payment on the receipt page. Please don't hesitate to reach out to me if you run into any problems, suggestions, or have any questions!
Regular price: $24.99
Flash Sale Price: $13.99
Prefer a Print Copy? The book is also available on Amazon in either format:
Refund policy: If at any time you are not satisfied with this eBook, Fueling Teens will refund you to the original payment method within 7 business days. Email us at [email protected]
Fueling Teens is a participant in the Amazon Services LLC Associates Program, an affiliate advertising program designed to provide a means for sites to earn advertising fees by advertising and linking to Amazon.com. We also participate in other affiliate programs which compensate us for referring traffic.