At the age of fifteen, teenagers only have three short years left before high school graduation. These years provide an important time for teenagers to develop the confidence, maturity and skills to succeed as a young adult. Learning to cook at home is beneficial for habits into adulthood. The ability to prepare balanced meals sets the stage for long term health and satisfaction. While no one expects a 15-year to master creme brûlée or set out a five-course meal, young teens can start to learn the skill of cooking through simple recipes. What are some of the easiest meals for a fifteen-year-old to make?
The easiest meals for a 15-year old to make include simple meals with few ingredients such as scrambled eggs, pasta, wraps, sandwiches, smoothies, cheese and bean quesadillas, pancakes, pizza, oatmeal, frozen fish, tacos, rice, as well as practicing cutting up fruits and vegetables.
These easy meals allow for unique preferences and creativity as well. Creating a balanced meal should involve a variety of foods and food groups. As a registered dietitian, I recommend ensuring a mix of carbohydrate, protein and healthy fats at each meal. The MyPlate model demonstrates a good example of balance with half the plate fruits and vegetables, a quarter protein and a quarter grain.
Continue reading for more details for kitchen tips to improve cooking experience, easy meals and fun recipes.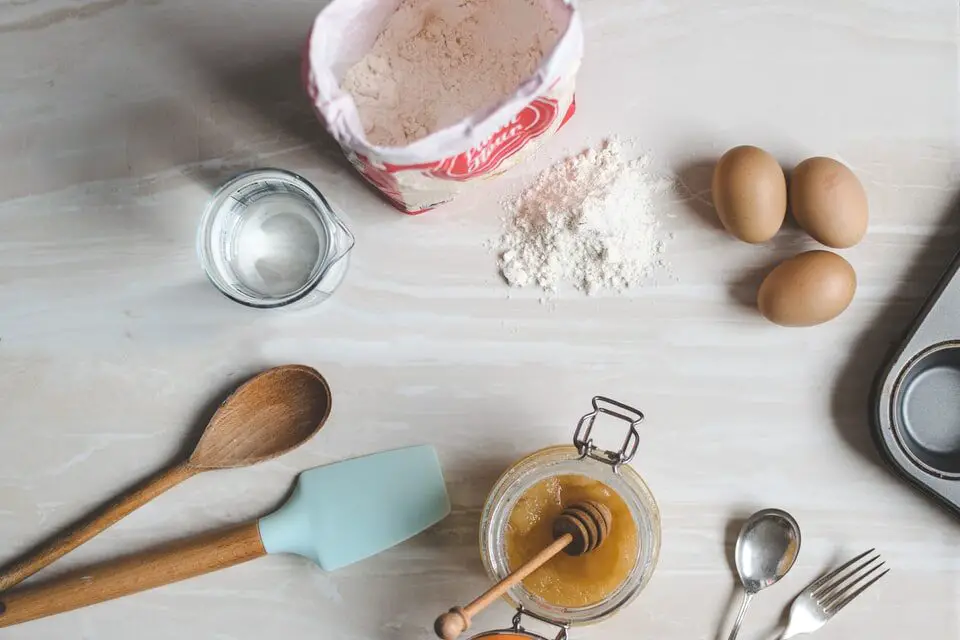 What Should a 15-Year-Old Be Able to Cook?
At the age of 15, teenagers generally have the skills to cook most simple dishes. They can use knives, ovens and boil water without supervision. They also understand how to read a recipe and follow directions. They may find themselves more successful with recipes that require less time and steps. These recipes include casseroles, canned food soups, sandwiches, wraps, burritos, egg variations, sheet pan bakes, pancakes, french toast, cookies, muffins and bars. 
Breakfast
Eggs (scrambled, fried, hard boiled)
Oatmeal (Baked, overnight, standard)
Granola 
Yogurt parfaits
Lunch
Sandwiches (PB&J, grilled cheese, meat and veggie, tuna)
Wraps (hummus, turkey and avocado)
Salads with protein (beans, eggs, chicken)
Tacos
Bean quesadilla
Dinner
Pizza
Pasta 
Sheet pans
Burritos
Soups
Intricate recipes and meals come with experience. A 15-year old who enjoys cooking may find themselves able to cook or bake recipes that require more time and skills. A 15-year should feel confident to try new recipes and to enjoy different challenges. Even the best cooks mess up and a 15-year old should not feel like a failure over one or even a couple less than ideal finished products.
Food Skills a Teenager Should Learn: 
How to read a recipe
How to use the microwave, use a blender, cook on the stovetop, and learn how to set the oven.
How to crack eggs
Safe knife skills for cutting and dicing fruits, vegetables, meat, cheese, bread, etc. 
How to check the use-by dates on foods
How to read nutrition labels and choose healthy options at the store. Maybe this means choosing a lower-sodium option or one with less saturated fat!
Have teens participate in the purchasing and bagging process at the store. This will build their confidence with making money transactions and help them see the entire process of meal planning.
Let your teenager unload the car and put food away where it belongs.
Benefits of Getting Your Teen Involved in the Kitchen:
Teens that participate in meal planning, grocery shopping, and cooking are more likely to try new foods and expand their palate.
Relationships between parents and teenagers can be nurtured when spending time together planning, shopping, preparing, and eating meals.
Teenagers will be able to eventually take over some of the responsibility of preparing meals for the family (I know that is an exciting benefit for the parents that need a break from cooking all the time!)
If teenagers have learned cooking skills early on in their life, they are more likely to carry healthy eating habits with them when they are on their own, rather than relying on fast food and convenience foods. 
Teens will be more comfortable and confident in their ability to take care of themselves when they are out of the house. Learning to cook can actually boost their self-esteem!
How to Get Teenagers Involved in the Kitchen: 
Make meal planning a family affair. Allow your teen to come up with one or more meal ideas each week to help plan and prepare. Let them look in recipe books and online to find healthy meals that look good to them! Your teen will be much more likely to try something that they picked out and helped make.
Have your teen help you make a grocery list. Show them how and where to check for ingredients that are already at home. 
Have your teen look at the ingredient list and retrieve all of the foods you will need. This will teach them to read the ingredient list and also will help them become more familiar with where things are in the kitchen and boost their confidence.
Take your teenager to the grocery store! Shopping for food might feel overwhelming if they haven't done it very much. Let them take the time to actually search for different foods- they will be more likely to remember things if they have had to put effort into the search.
Let them measure out ingredients while you are cooking. Show them the tools for measuring both wet and dry ingredients and assist them as needed.
Cook with your teenager. Make it a fun time together with talking, background music, and memorable meals. 
Plan on having treats too! This can help your teen develop baking skills and learn about nutrition and moderation. Many box recipes have simple instructions to follow and can be good practice for teens.
Kitchen Tips for Better Cooking/Baking Experiences
Following certain steps prior to and during the cooking process can help create a better experience for teenagers in the kitchen.
1. Start with a clean kitchen
Make sure to clean up the kitchen before starting a recipe. Clutter can result in confusion and frustration. Furthermore, dirty towels, dishes, utensils and countertops can contaminate food.
2. Clean as you go
Few things can result in less second attempts than the time consuming and less than enjoyable task of cleaning up a huge kitchen mess. Washing dishes and wiping up spills throughout the cooking process results in better food hygiene, less confusion and a more enjoyable m experience.
3. Practice good food hygiene
Poor food hygiene can result in food poisoning, which is a very unpleasant and potentially dangerous condition. Good food hygiene means washing hands/utensils and dishes properly, eliminating cross contamination, cooking and then cooling/storing food properly.
Always start cooking by properly washing hands. Also, make sure to wash hands after handling raw meat, eggs, flour or going to the bathroom. Good hand washing follows five steps

Wet hands
Get soap
scrub for 20 seconds
Rinse
Dry with clean towel
Eliminate cross contamination by washing or using separate utensils and dishes for raw and cooked products. Raw meat, eggs, flour and other foods may carry bacteria that easily spreads to other foods through contaminated surfaces.
Cooking foods to correct temperatures reduces the risk of food poisoning by killing harmful bacteria. Buying a food thermometer is a wise investment. 
Finally, chilling foods as quickly as possible further reduces risk of bacteria multiplication. Food should store at temperatures lower than 40F. Teenagers should toss out any meals left out at temperatures between 40-140 F for longer than two hours for safety concerns.
4. Read the recipe all the way through
Knowing the order of steps and what ingredients to mix, separate or save for the end will prevent frustrating mistakes. Those who begin cooking before reading the recipe will often find that the meal does not turn out as desired. 
5. Mise in place
This French culinary term translates to "putting in place" and means preparing ingredients and utensils for recipe use. Read through recipes, get out and prepare ingredients and kitchen items before you start. This method not only increases organization, but also saves time. It prevents mishaps like ingredients burning while trying to prepare another ingredient.
6. Ask for help
Some recipes may use methods, techniques or ingredients unfamiliar to teenagers. Rather than giving up on a recipe in frustration or making uneducated guesses, teenagers should ask for help. Seeking help is part of the learning experience.
7. Taste the food
The classic story of serving a dessert made with salt rather than sugar does not need to happen. Tasting the final product before service allows a teenager to determine if it tastes okay. Tasting during cooking or baking can improve the end result and allow for creativity in adding desired flavor.
Recipes – Healthy and Easy Meal Ideas for a 15-year-old
The following meal ideas offer a balance of nutrients and food groups to help fuel a teenager's day. These meal ideas combine easy recipes and simple steps that most 15-year can feel confident in accomplishing. 
Breakfast
Egg burrito
Scramble eggs on medium heat with favorite chopped vegetables and seasonings. Fold into a tortilla with cheese, salsa and avocado. Enjoy with some fruit.
Baked oatmeal
This yummy twist to a classic bowl of oatmeal makes a great start to any day. The options are endless with carrot cake, lemon poppy seed, banana bread, chocolate peanut butter and other flavors depending on add-ins. 
In a blender blend:
1/2 cup (c) oatmeal
1/4 c milk
1 egg
1 Tablespoon (Tbsp) peanut butter
1 tsp honey
1/2 ripe banana, mashed
1/4 tsp baking powder
1/4 tsp cinnamon. 
Pour into microwaveable bowl and mix in choice of add-ins (chia seeds, flaxseeds, chocolate chips, nuts, dried fruit, shredded zucchini, etc.). 
Microwave for 2-3 minutes until knife comes out almost clean.
Toasted bagel with yogurt parfait
Toast one slice of a whole wheat bagel and spread avocado, peanut butter or another favorite spread. In a separate bowl add desired amount of plain yogurt and mix in fruit, nuts, granola, chia seeds, flaxseeds or other add-ins. Add sweetener of preference if desired.
Lunch
Chicken and hummus wrap
Spread hummus on a whole grain tortilla. Add canned or shredded rotisserie chicken, sliced tomato, cucumber and lettuce. Roll and then cut in half. Enjoy with a side of fruit and vegetables.
Tuna salad sandwich 
Toast two slices of whole grain bread. Add a generous helping of tuna salad. Combine with a side of carrot sticks and fruit.
Tuna salad
Combine in bowl:
1 can tuna fish
3 Tbsp plain greek yogurt
1 Tbsp lemon juice
1/4 to 1/2 Dijon or normal mustard
salt and pepper to taste
mince desired amount of celery and onion (generally a half stalk celery and 1 Tbsp minced onion)
Salads
Teenagers can find what type of salad works best for them. The options vary from greek to cobb or taco style. A bowl of lettuce and ranch can act as a side to another meal, but a salad needs protein, healthy fats and carbohydrates to provide adequate energy and satiety as a stand-alone meal. 
For example, adding black beans, cheese, quinoa, salsa and some guacamole to a bowl of lettuce makes a satisfying and nutrient rich taco salad meal.
Dinner
Sheet pan meals
These types of meals deserve a star spot on a list of easy and nutrient dense meals. Generally, a sheet pan meal involves baking poultry/meat/fish with chopped or sliced vegetables and topped with a seasoning or glaze. The following link provides an easy and colorful sheet pan dinner recipe. A simple google search will bring a variety of ideas as well. Make sure to add in carbohydrates such as potatoes, corn, rice or bread.
Pizza
Who doesn't like pizza? This classic food can make a great balanced meal. A homemade crust can be a good challenge, but with less available time, stores offer easy options such as flatbread or even stand-alone pre-made pizza crusts.
Spread a thin layer of low sodium pizza sauce. Sprinkle a light layer of cheese and add choice of less processed meat. Add a colorful variety of chopped vegetables to up the nutrient content or enjoy a salad on the side. Bake in the oven until cooked through and enjoy!
Pasta
Boiling pasta noodles requires little precision and time. Try whole grain noodles for more fiber. Pasta noodles can then be used for many easy meals. Just combining some frozen vegetables, beans and choice of sauce will make a pretty sustainable and delicious meal. 
Be aware of sodium and sugar content of pre-jarred pasta sauces.  However, many brands will label no sugar and low sodium options. 
Fueling Teens is a participant in the Amazon Services LLC Associates Program, an affiliate advertising program designed to provide a means for sites to earn advertising fees by advertising and linking to Amazon.com. We also participate in other affiliate programs which compensate us for referring traffic.