There are all kinds of protein shakes on the market today. There are protein powders that you can make into a shake and also pre-made protein drinks that are easy to just grab out of the fridge on your way out the door. While protein shakes might seem like an easy, tasty way to get in more protein, are they appropriate for a 15-year old?
Protein shake supplements are usually not recommended to people under 18. However, there are some situations where protein shakes might be helpful for 15-year olds. Teens that are very athletic or need extra protein during the day may find protein shakes beneficial. Be sure to choose a safe, high quality protein supplement and always check with your doctor before starting any kind of protein supplement.
Read on for more information on how much protein a 15-year old should be getting. Below is a description of who may benefit from a protein shake, instructions on how to make one at home, and protein supplements that are dietitian approved.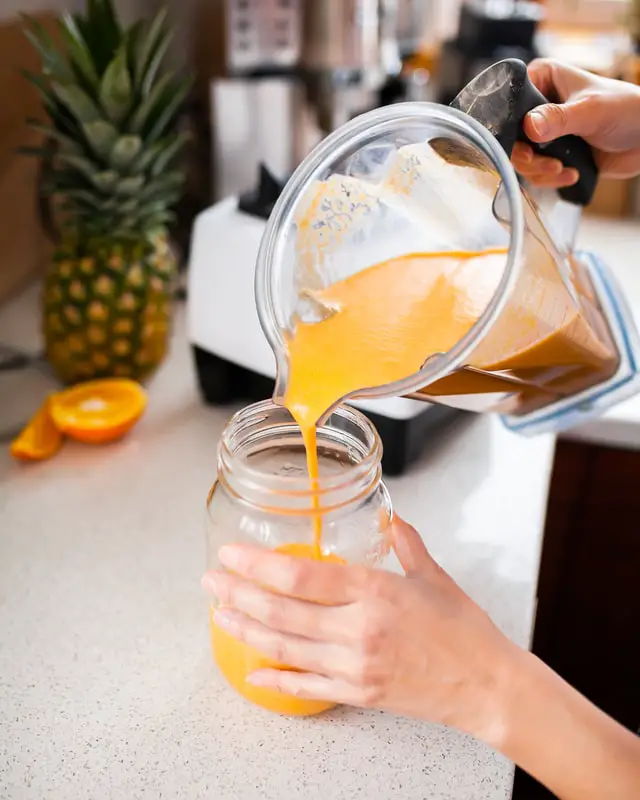 Why is Protein Important?
Protein is one of the three macronutrients that the body needs to function properly. The others are carbohydrates and fats. They all play important roles. Protein is the building block of the body and helps repair damage, build strength, and keep all systems and organs functioning. Other important things protein does for the body are:
Keeping hair, nails and skin strong and healthy 
Supporting a healthy immune system
Building and strengthening muscle 
Keeping blood sugars stabilized when protein is eaten with carbohydrates
Keeping you feeling satisfied after a meal or snack
Helping transport nutrients throughout the body
How Much Protein Does a 15-Year Old Need?
The amount of protein a 15-year old needs is different person-to-person. Body weight and activity level are the two biggest factors that influence protein needs. You may need individualized nutrition guidance to determine the amount that is right for your body.
The general recommendation for protein intake is to have 10-35% of your total calories coming from protein each day. This is a very wide range. Develop a mindful relationship with your body to determine what amount of protein really is the most satisfying and helpful for your body!
An easy way to quickly calculate protein needs is to use the equations below. This will give you a gram amount per day that will likely be appropriate for you.
Non-athletes: Body weight (in pounds) x 0.3-0.4
Athletes:  Body weight (in pounds) x 0.45-0.6
Using the equations above, a 15-year old athlete that weighs 150 pounds would need about 68-90 grams of protein. On days they are more active, they would need closer to the upper range, while on rest days they might not need as much.
Are Protein Shakes Safe?
All supplements, including protein powders, drinks, and shakes, are not regulated by the Food and Drug Administration (FDA). This means that protein shakes can be sold on the market even if they have not been proven safe for consumption! 
You cannot trust a protein supplement simply by reading the ingredient list. With the lack of regulation, there are often ingredients found in the product that are not shown on the label. Some protein supplements have even been found to be contaminated with illegal substances, like steroids.
This is the main reason that protein shakes are not recommended for those under 18-years old. Consistently taking in even small amounts of unsafe substances could be very harmful during the teenage years in such an important period of growth.
However, this does not mean that all protein shakes should be avoided. Supplement companies do have the option of submitting their products for review by a third party to determine that the food label is accurate and the product is safe. A "USP" sticker shown on a product means that it underwent third party testing for safety. 
Anyone that uses protein shakes, teens and adults alike, should choose high quality products that have been tested and proven safe. Always ask your doctor before starting any kind of supplement, and then work with a dietitian to determine a protein shake or powder that would be appropriate for your needs.
Can You Eat Too Much Protein?
Another reason that protein shakes are not recommended for young teenagers is because it can often lead to consuming an excess of protein. Contrary to popular belief, consuming more protein is not always healthy, even if you are wanting to build muscle. 
Your body can actually only handle a certain amount of protein at a time. Eating a huge amount of protein at once is not giving your body any added benefit. In fact, it can put strain on your body, specifically your kidneys, when consistently eaten in excess. Consuming too much protein can also cause digestive issues and nausea. 
Eating too much protein can also lead to deficiencies in other macronutrients and micronutrients. Your body needs carbohydrates and fats as well as the vitamins and minerals found in other foods. A diet too heavy in protein may be lacking elsewhere.
The best practice to avoid eating too much protein is to aim for 15-30 grams at every meal and snack. If you are consistently eating an appropriate amount throughout the day, this will naturally spread out your intake and maximize the benefit you are getting from the food you eat!
Does a 15-Year Old Need Protein Shakes?
The short answer to this question is no, protein shakes are not necessary for any age group. However, they can be helpful tools if getting protein from real food sources is too much of a challenge. 
Working with a dietitian can help determine if you are currently meeting your protein needs with food. A nutrition expert can give you more ideas of ways to include an appropriate amount of protein in your diet, through both real food and supplements if needed.
Should Teenagers Take Protein Shakes?
Certain teens may benefit from protein shakes. A few examples of teens who might find them helpful are:
Athletes with high protein needs
Teens recovering from surgery or injury needing higher amounts of protein
Vegans and vegetarians who have fewer protein options to choose from
Teens with food allergies that limit protein options
Teens with busy schedules that keep them from being able to eat balanced meals and snacks regularly throughout the day
What Foods Are High in Protein?
All of your protein needs can be met through food. There is a wide variety of foods that contain protein. Below is a chart from the Academy of Nutrition and Dietetics that shows some foods that are particularly high in protein.
Try to mix up your protein routine regularly and include both animal-based and plant-based protein options. Although these foods all contain protein, they each have a unique set of vitamins and minerals that the body can benefit from!
How to Make Your Own Protein Shake at Home
Protein shakes, drinks, and powders can get expensive, and honestly, you can make your own pretty easily, and affordably!
Here are some ideas for foods that you can pick and choose from to make your own high protein shake or smoothie! Many of these are foods that have a long shelf-life and are common foods to keep on hand.
Dietitian-Approved Protein Shakes and Powders
If a protein supplement is necessary for your situation, remember that the quality of the supplement is extremely important. Consider trying one of the following!
Orgain Clean Protein is one of my favorite high quality protein shakes to recommend. It comes as a pre-made drink, but also as a powder. They have plant-based and whey protein options available.
PB Fit is a protein powder that is made from real peanuts. It has less fat and sugar than regular peanut butter but still has the yummy flavor! You can use it to make your own protein shake at home by blending it with a banana, and some milk. Or it could be added to foods like oatmeal to provide a little added protein. 
Carnation Breakfast Essentials offers a powder that can be added straight to milk. There is a high protein option now available as well. For added convenience, they have a pre-made shake option too!
See Also:
Summary
Protein shakes might be an option for you, if you have your doctor's approval, but that doesn't mean they are always the best option. Remember that protein shakes are meant to supplement a healthy diet, not take the place of real food. Try to find new ways of incorporating high protein foods into your diet.
Make sure you are aware of what is going into your body. Check with a dietitian before using any protein supplement- just to be sure it will be safe for your growing body!
Resources
Castle J. How Teen Athletes Can Build Muscle with Protein. Eatright.org Published July 21, 2020.
Ellis E. How Much Protein Should I Eat? Eatright.org Published December 15, 2020.
Fueling Teens is a participant in the Amazon Services LLC Associates Program, an affiliate advertising program designed to provide a means for sites to earn advertising fees by advertising and linking to Amazon.com. We also participate in other affiliate programs which compensate us for referring traffic.